Coaching, Personal Development, and Coaching Supervision
Using professionally accredited coaches, we offer coaching sessions and packages in a variety of formats tailored to your needs. Whether you're an individual seeking support, looking for a corporate coaching solution, or as part of a team development offering, get in touch to discuss your needs obligation free. If you are an occupational Health Company or Employee Assistance Programme, please give us a call to create an account.
What is coaching?
Focused primarily on the here and now, coaching is about working with a client and establishing what their reality is today.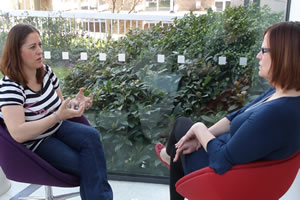 With this in mind a coach will help the client define their goals and intentions for the future. This may be around a certain topic or a number of topics important to the client.
This is all largely done through actively listening to what the client is and importantly isn't saying and asking great thought provoking questions. A coach will work with the client to create an action plan or milestones to success that the client is committed to achieving and confident is possible.
It is different to counselling, as that is more often is focused around distress or issues an individual is experiencing. Counselling may also be more focused on the past, a loss or ways a client behaves in relation to one of these issues.
Coaching is a great solution for those who:
Have a goal in mind but aren't sure where to start
Want a goal but feel uncertain about any way forward
Feel overwhelmed with studies or revision
Are committed to something but need a plan
Want to reassess what's important
Need to focus or be more efficient
Want to improve decision making skills
Need to improve time management
Aspire to become more assertive/more credibility
Are struggling to adopt/embrace a change
A great coach needs absolutely no experience or knowledge of a topic so no issues are too complex.
Coaching can be carried out in a flexible variety of formats, either in person, at a mutually convenient and suitable location, over the phone, or at your organisation.
CIPD Intermediate Certificate in Organisational Coaching and Mentoring
Certificate in Organisational Coaching/Mentoring Supervision (EMCC Accredited)
Take the first step take the first step today and get in touch for a no obligation chat:
Email: hello@at1people.co.uk
Telephone: 07483 230774 or 01977 520969